Att10tive Social Enterprise
Montell Neufville
Managing Director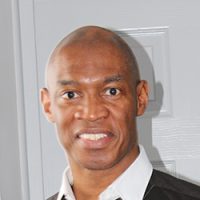 My background is in community engagement, police officer training, Youth leadership, workshop facilitation and non formal learning.
I set up Att10tive Social Enterprise in 2016 to fill a gap of providing young people with the opportunity to make a positive difference in their communities, at the same time develop their own interpersonal skills and gain experiences that they wouldn't usually have the opportunity through the normal course of their life journeys.
We work for a large range of organisations inducing public bodies such as schools, colleges, universities and police forces. We work with businesses and charities, youth groups and community groups as well as local authorities. We engage everyone from every background and with every ability.
We facilitate opportunities for all members of communities and our participants in public service to work together to build a more cohesive society. We provide a varied range of enrichment experiences for our participants. We are passionate about providing opportunities for people to enjoy their learning no matter how old or how young they are.
Habibah Miah
Executive Assistant
My name is Habibah Miah.  I am 19 years old and have been a part of ATT10TIVE since I was 15.  Upon joining, I was the youngest member of the team by a significant amount and naturally, this was very daunting.  However, by immersing myself into all the opportunities offered to me, I was able to build my confidence and broaden my skill set rapidly making meaningful connections and memories along the way. 
Some of the projects I have been a part of include a youth exchange to France via Erasmus+, community cohesion through cuisine, OneLuton, workshops in schools and youth centres, Stop & Search panels and many more.  Over the years, I have been given countless roles and responsibilities which allowed me to develop crucial transferable skills such as management of time and people, attention to detail and resilience.  Many young people are not granted the same opportunities to complete more challenging tasks as I have and therefore, I have been able to push my limits and expand my expertise.  
In my free time I actively participate in dance and performing arts; ATT10TIVE has allowed me to include my passions in some of the work we do as an organisation. I am incredibly grateful for the chance to work here for so long, especially aiding my transition from adolescence into adulthood; It has helped me remain focused and goal-orientated at a time where many things in my life was changing. 
Arriana Vararu
Team Leader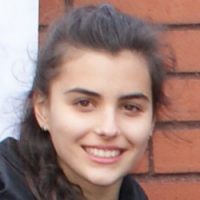 My name is Arriana Vararu, I am 18, and in my spare time I tend to either create art, play instruments or go snowboarding. I have been part of ATT10TIVE for almost 2 years now, and it has been by far the most wonderful experience I could've had as a transition into adulthood.
Upon joining, I was introduced to several transferable skills such as time management and was even taught how to be a project manager for One Luton, a project which concentrated on the cohesion of the diverse communities in Luton. This was by far one of the most eye-opening skills. As most young people are almost never considered in higher demanding positions (managing an event, being responsible for a larger number of people, etc). I believe I have gained an outstanding understanding of the greater world and how it functions
At the time, I found myself slightly overwhelmed by the sudden freedom and responsibilities, however that has pushed me into becoming a more resilient and goal driven individual. Overall, Att10tive has been one of the best opportunities I have come across. It has taught me everything ranging between people skills and organisation skills which I would never have gotten the chance to learn in any other place. If given the chance to go back in time I would one hundred percent still follow through and be where I currently am.  
Adeel Bashir
Partnership Coordinator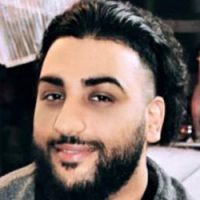 Hi, my name's ADEEL BASHIR, I joined Att10tive Social Enterprise in September 2018 as an Engagement Coordinator. My journey started by observing and assisting in workshop's at Colleges and Schools. I then attended a wide range of networking events. At these events I met a lot of influential people and organisations most of whom I didn't know even existed and learned things about the town which I was not aware of, this motivated me to get even more involved.
My first main project was One Luton which was a celebration of Luton using media, dance, and the creative arts. My next project was the "Stop & Think" Exhibition about knife crime. I learned so much through these projects including how to better engage with people. These opportunities also taught me presentation skills, communication skills and made me a better team player.
I'm now a team leader and engaged in my third project called ' Another way'. I'm so proud to work with and lead a wonderful diverse team which has given me the opportunity & platform to learn further & gain more life skills.
I've been able to improve my CV by having many practical experiences to reference and it's also helped my mental health and wellbeing. Att10tive is about making a positive difference in people's lives and improving the community. Through my work with the organisation I won Luton's Best award; "Role Model of the Year 2019", which is my proudest achievement to-date. 
Lorell Scott
Deputy Team Member
Lorell Scott: I joined Att10tive last April and during my time at Att10tive I have been involved in many projects and workshops such as Looking through the window, Employability Skills, Self-Employment, Event and Project Planning, Understanding Stop & Search, Chess and Mental Health Awareness to name a few. I have delivered workshops and training to students from Luton Sixth Form College and Central Beds College, and even Bedfordshire Police Officers, and I hope to continue to make a difference in my community and to bring people from many different races, religions, cultures and social backgrounds together.
I wish to learn more about different cultures and to become more educated about the people in my town and across the entire country. I also wish to help people who may be suffering from mental health issues to find help, especially in these hard times. I am passionate about how I believe mental health problems should be treated as much as any other health problems.
Natalia Duda
Youth Amassador
My name is Natalia Duda, and I joined ATT10TIVE in November 2020. I first heard about ATT10TIVE through my Sixth Form college when signing up to their work experience week during the October half term. I found this experience very valuable as it revealed to me how important personal development is and what I need to work on. Without a thought I applied and successfully became a youth ambassador. Joining ATT10TIVE has helped me gain confidence and understand that my voice matters, even as a young individual; that I can make a difference. During the work experience I got to meet four friendly members which later on helped me settle in and feel a part of their team. Montell helps us develop transferable skills, such as time management and presentation skills, and many tools which are vital and helpful for our future careers. Att10tive has taught me how important community cohesion is and how to communicate effectively. I am looking forward to the upcoming projects and opportunities att10tive social enterprise has planned.
Benita Mehri
Youth Ambassador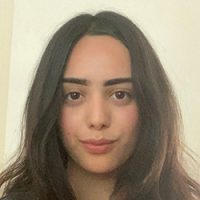 Hello my name is Benita Mehri and I'm a Youth Ambassador at att10tive, I joined the team in November (2020) so I'm still a relatively new here, but I've already learned a lot a lot of practical and transferable skills since being here such as how to use various pieces of software to create presentations and animations as well as edit down longer videos to a shorter time frame.
I've also acquired some experience doing live presentations in front of an audience which has helped me gain confidence in public speaking as well as learning to think on my feet.
I've recently begun co-hosting a radio show called Youthology on AUK Radio as an ambassador for att10tive as a company which I'm pleased to say has developed me in many ways including learning to plan shows and organising meetings with my colleagues to discuss them. The skills I've learned are only the beginning of my journey at att10tive and I hope to gain an even wider range of transferable work/life skills whilst at Att10tive.
What led me to pursue a youth ambassador role at att10tive was my interest in getting involved in communities as well as youth work and learning skills that can aid me in growing as a person because I feel that you're never too young to get involved in community projects and never too old to learn new life skills.
I feel there has also been an improvement in my public speaking and confidence by taking part in educational workshops in schools and colleges which cater for many different learning-styles and advocate good communication between all members of the community.
Wissal Ettawri
Youth Ambassador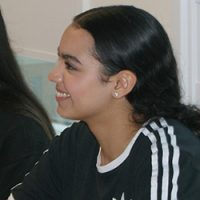 My name is Wissal Ettawri, I'm 18 and I've been a Youth Ambassador at Att10tive since February 2020. Being part of such an excellent and skilful team has allowed me not only to learn new skills but also develop many other transferable ones too.
My main area of focus at Att10tive is photography as new and updated content is always required for our website and social media platforms. I previously worked on a short promotional video for the business which I was very pleased with.
In summer 2020 I was also one of the main people who managed one of our online projects on Facebook called Looking Through The Window which was very successful.
Att10tive is always full of opportunities and I was very lucky to learn chess, as well as showcasing my skills to others via recording our online sessions.
I'm very thankful for Att10tive as it allows me to meet new people and most importantly shows me how important community cohesion is. It has definitely increased my confidence and improved my time management, team work and communication skills overall.
Paul Taiwo
Youth Ambassador
"Hey there. My name is Paul Taiwo – became a member in September 2020. The novelty that Att10tive brings to the community creates synergy and cooperation in the community. Statistically, figures show that Luton has been highly successful in reducing COVID-19 cases as opposed to other communities, signifying the impact of the project such as One Luton organised by Att10tive, bringing diverse groups of people together within Luton, collaborating to wage war against COVID-19.
Att10tive is not only an organisation that is passionate, ardent and enthusiastic about the betterment of the community it serves, but also allows great team leaders and team members to learn new skills, challenging themselves to develop resilience and confidence, ultimately leading to unlocking their limitless potential.
I am very much proud to be part of an altruistic organisation such as Att10tive. I have met genuine and welcoming people from the Managing Director to the Team members."
Hamnah Baig
Youth Ambassador
My name is Hamnah. I'm 17 years old and I'm a Youth Ambassador for Att10tive. I am relatively new to Att10tive having joined in /May 2021 with a few of my colleagues. I decided to be part of Att10tive because I believe it is vital to engage with young people and the community. I love stepping outside of my comfort zone, doing new things and working with others. All of these things are what Att10tive is all about.
I found out a lot about different ways to present workshops and how to do it effectively. I have learnt how to be more creative through my writing, how to utilise social media as a tool to express certain ideas and much, much more. Att10tive has assisted me in highlighting my interests while also strengthening my weaknesses.
The Att10tive team is extremely supportive and one of a kind. Everyone is enthusiastic and hard-working; it is so inspiring to see such young individuals carrying a large portion of Att10tive. Montell, the mentors, the team leaders, are all so respectful and motivating. I truly enjoy working on projects with them and I'm looking forward to the numerous projects we'll be working on in the future.
I can't wait to meet many new people and work with them to build a better, safer and more connected society.
Julia Popielarek
Youth Ambassador
Hi! My name is Julia Popielarek and I joined Att10tive at the beginning of May 2021, with my main motivation being to develop skills that aren't focused on in a classroom environment. During my short time being a Youth Ambassador at Att10tive I have already acquired a vast spectrum of skills which are essential in becoming a well-rounded individual. These skills include exploring and using a wide array of software such as video editor DaVinci Resolve and poster making apps such as Canva. Additionally, joining Att10tive has led me to becoming more confident in my work and in everyday life as I had to address my limitations in order to observe workshops conducted by Montell and even support one. Working with Att10tive has made me realize that letting young people work on their own accord with only slight adult supervision can work, and should be the way forward in society as it gives the youth a voice, not just for show, but for actual communication of ideas and concerns. I look forward to working on more projects in the future particularly those involving uniting the community and workshops for various age groups. I wish to further improve my confidence as well as my presentation skills, at the same time as making a positive contribution to our society.
Kashaf Zahid
Youth Ambassador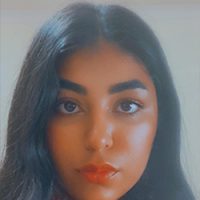 My name is Kashaf Zahid, I'm 17 and I joined Att10tive in May 2021 as a Youth Ambassador through my Sixth Form. Only recently have we been able to meet up in person due to Covid-19 restrictions, but meeting my peers and Montell in person was very refreshing and I am motivated and ready to work with the team on more projects.
So far, I have been focusing on online software skills and developing a story for our 'Stories of Identity' project. Currently, I am working on blogs for the website, covering a wide range of topics such as race and gender issues, community cohesion and community conflict. In the future, myself and a few other members will be sitting on the Police Scrutiny Panel for Bedfordshire, Hertfordshire and Cambridgeshire, after receiving training.
In such a short span of time, I have learned to manage my time more effectively, learned to adjust to the freedom of taking charge of the tasks set without fear of needing to follow a clear-cut template, and also learned to trust in and reach out to my more experienced peers for support when I need it. I look forward to working with the team at Att10tive further on upcoming projects and learning transferable skills that will be applicable to life beyond the work we do
Mahera Chowdhury
Youth Ambassador
My name is Mahera Chowdhury. I became a member of Att10tive in May 2021, My time here so far may have been short but I have learned so much with this amazing social enterprise; from learning different types of software to create content, to building real life connections with my colleagues and learning more about myself, therefore increasing my own self-confidence. We all know that it has been a tough couple of years but with Att10tive I am able to help our community get back onto its feet.  
 With Att10tive I am able to voice my opinions and be heard – whether it is through blog posts or even radio shows. Att10tive is so much more than an organisation that aims to deliver workshops and give further insight on a multitude of today's problems, we are a family; a group of people aiming to unite our community and allow everyone to live much happier lives in harmony.  
 Att10tive is unique and you really would not find anything like it anywhere. I am looking forward to participating in even more activities with Att10tive and meeting new people to collaborate on projects with.
Syeda Mujtaba
Youth Ambassador
Hi, I'm Syeda! I'm 17 years old and have been a youth ambassador at att10tive since May 2021 after hearing about it through my sixth form. Instantly, I knew that it would be a great opportunity to help be a voice in the community and further develop myself as an individual with the skills that I would acquire along my journey.
Despite only being a member for a short period of time, I've already learnt so much from working with Montell and the team through training sessions, workshops and team meetings. I'd not had much experience in presenting however, learning how to present with att10tive has benefited my confidence massively as I now feel comfortable enough to present in front of a group of people that I don't know. Additionally, with the environment created by the team it has allowed me to cultivate an enquiring mind open to discussing ideas and presenting opinions which was something that previously, I was not very good at.
Not only have I developed myself as an individual in terms of my attitude, Montell and the team through various workshops have taught me new skills such as learning how to create animated videos to portray messages, using platforms to create informational and motivational posters for social media accounts targeted at various audiences and learning photography skills.
I'm grateful to be part of an enterprise involved in projects striving to make a difference within our community such as the Bsafe project, and despite being a young individual, knowing that this opportunity has allowed for me to voice my ideas and for them to actually be put into use. Att10tive has taught me skills that I may have not learnt in my everyday life, it has allowed me to manage my time efficiently, take on responsibilities causing me to become an independent individual and I believe will continue presenting me with opportunities to learn and obtain important life skills whilst making a positive impact.
Veronica Bucad
Youth Ambassador
My name's Veronica Bucad and I've recently joined att10tive as a Youth Ambassador. First hearing about the enterprise through my college, I decided that it would be a good opportunity to not only get myself out there and develop my soft skills but would also be a great way in which I could help and better the community I've grown up in. Having dabbled and immersed myself in various creative endeavours such as art, film-making, music and having cultural insight on my own ethnic ancestry, I believe I bring a new perspective to the team.
Although I've only been here for a short while, my experience with att10tive has been invaluable as it has exposed me to opportunities that I would only ever dream of having on my own. The rest of the team have been incredibly welcoming, reliable and have always been ready to lend a hand when needed.
Currently involved in Stories of Identity and the enterprise's social media marketing team, I've learnt to utilise Web tools such as Prezi, Animaker and editing software such as Davinci Resolve. Additionally, I've been able to hone in on personal and interpersonal skills such as team communication and time management. I look forward to future projects and bettering myself with the rest of the team and community.
Chenoa Nelson
Executive Assistant to the Managing Director
Hello, my name's Chenoa. I've always had an interest in helping my local community and have seen first-hand how certain issues affect where I live and those around me. Through working with Att10tive, I have had fantastic opportunities that have aided me in achieving my personal goals of self-improvement, as well as being able to contribute toward the betterment of my community.
Montell has helped me broaden my horizons with the chance to see what I'm capable of as an individual with opportunities that I would never have had otherwise. I got the chance to coordinate a task for one of our events, which was something I had never had the opportunity to try beforehand, as well as express my artistic side by creating artwork to contribute to our exhibition, helping spread a message about the negative impact of knife crime. Att10tive has been an incredible platform for developing my interpersonal skills as well as practical skills such as time management, critical thinking and decision-making.
I feel there has also been an improvement in my public speaking and confidence by taking part in educational workshops in schools and colleges which cater for many different learning-styles and advocate good communication between all members of the community.
Mason Dhokia
Youth Ambassador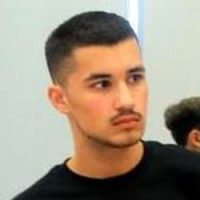 My name is Mason Dhokia. I'm 19 and a college student. I have been a part of Att10tive since July 2019 and have been part of one full project which was the stop and Think Exhibition and am currently moving on to new projects as a deputy team leader.
Att10tive has given me the opportunity to explore new roles and skills that I had never thought of pursuing before. Working on the 'Stop and Think Exhibition' I was able to take work on producing a promotional video, which gave me the chance to look at media production from an outside view.
Through the advice and guidance that I have been given whilst working with Att10tive, I have been able to work on my personal development and push myself to grow in terms of my professionally and presentation skills as well as my interpersonal skills. Being a part of this team, I have been able to gain new experiences and develop my skills and grow further.
I feel there has also been an improvement in my public speaking and confidence by taking part in educational workshops in schools and colleges which cater for many different learning-styles and advocate good communication between all members of the community.